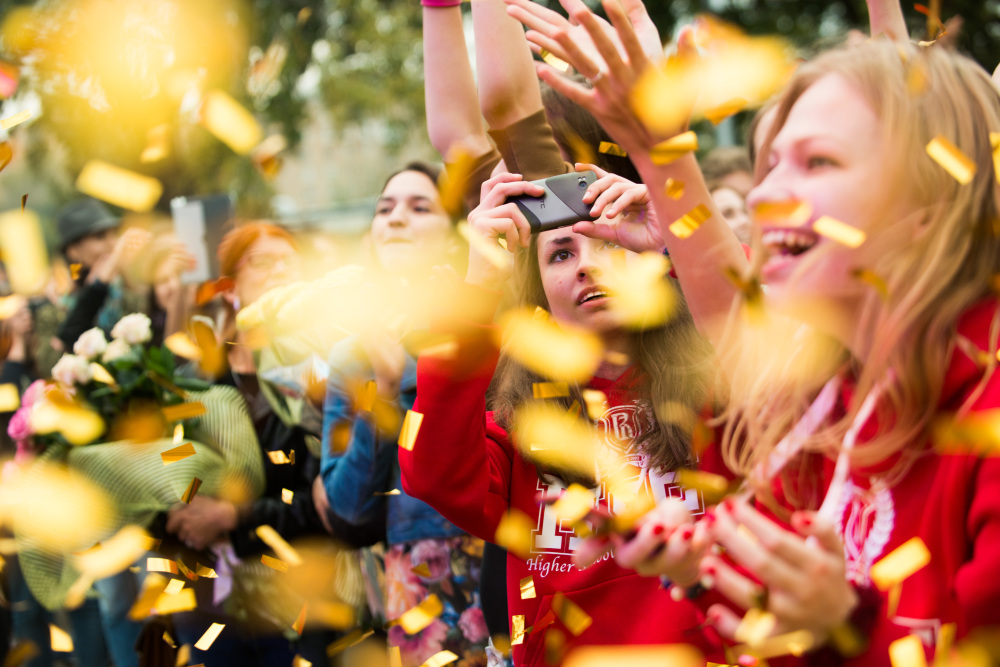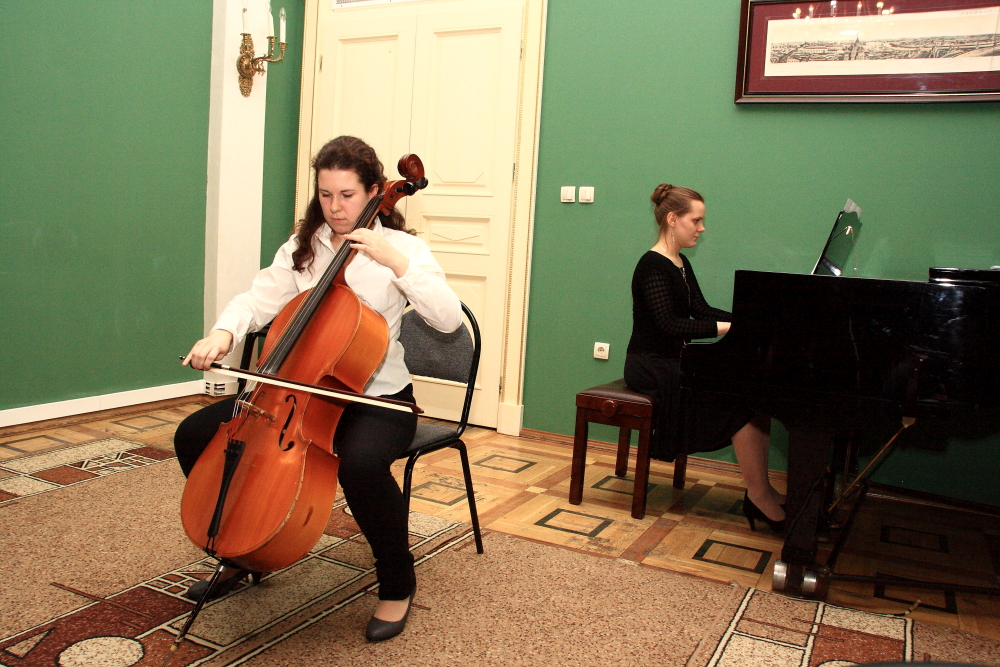 The HSE offers you lots of opportunities to develop you creativity and for cultural enrichment.
Student Initiative Support Centre provides support resources for HSE students who are carrying out independent projects helping to develop their participants' leadership skills, promote HSE's reputation, as well as contribute to the life of the city, its residents, and the environment.
Language Tandems
HSE Language Exchange Club offers Russian and international students a multitude of opportunities! 
Improve your language skills, learn more about Russian culture and the cultures of other countries around the world; build a social network, make new friends, and engage in fun activities (discussions, debates, games, etc.). Join the club by filling in this registration form and joining the HSE Language Exchange Facebook Group. 
ESN HSE
ESN Local Section at HSE in Moscow (ESN HSE Moscow) organises events for all students at HSE. They work towards furthering internalisation of education and promoting student exchange in Russia. ESN organises different cultural events both for Russian and foreign students - from parties and city excursions to grand trips around Russia and other major projects. ESN HSE Moscow operates mainly in English. Join ESN HSE here on Facebook and here on Vkontakte for updates and themed events!
Green HSE
Green HSE is one of the strongest movements at the HSE, and the group hopes you join! The team takes part in serious activities such as lowering energy consumption at the university and looking for heat leakages. Come talk with the ecology experts and learn that HSE, for example, does not throw out metal scraps, but recycles them, or that the school regularly collects paper waste. You can find more information on our Website or Facebook page.
Dialog+

Welcome to dialog+  – an international association of German and Russian economists!
We aim to strengthen economic contacts and cooperation between Russia and Germany, contribute to building a stronger civil society and market economy. Our strategic objective is to create a network of students, specialists and scientists interested in forming closer business, scientific and cultural ties between Russia and Germany. 
What do members of dialog+ in Russia do to achieve this goal? We organize different events, including visits to prominent German companies to gain insights into the peculiarities of the business, as well as conferences and lectures devoted to the most topical challenges that both countries face. The most significant conference is the annual Symposium that is held in Germany and Russia in alternate years.
dialog+ is open to participants from any country. Anyone who is interested in strengthening Russian-German economic relations is highly welcome to join!More information you can find on Facebook.
HSE Debating Society
If you are international student at HSE and would like to improve your public speaking and argumentation skills, meet good friends and spend time discussing burning social, economic or political problems, then welcome to HSE Debating Society!
We are all about holding warm and welcoming meetings, participating regularly in European and World Championships, and hosting presentations that bring together up to 200 people. 
HSE Debating Society is one of the most successful and famous debate clubs in Moscow. Teams from our club take part and perform well in all major debate championships.
We are glad to invite you to our debate sessions that we hold every Wednesday, 26 Shabolovskaya St. at 7 p.m.
You can learn more about us on our Vkontakte and Facebook pages.
English Speaking Club HSE
Welcome to English Speaking Club of Higher School of Economics! Here you have an opportunity to practice English in real-life communication with nice buddies!
If you are a foreign student you can meet many interesting Russian people, know a lot about Russian culture, tell about your experience and make good friends.
You can:
-      enrich your active vocabulary;
-      develop fluency;
-      improve your pronunciation;
-      meet new people and have fun!
Join us on Facebook and on Vkontakte for updates!
Trilistnik English Speaking Club
Are you crazy about English? Do you want to improve your language skills?
Welcome to HSE English speaking club! During our meetings you can find new friends, watch movies in English and discuss them, make flash mobs, play games outdoors,and, of course, have tea in a good company!
Join us on
 Vkontakte
 to find information about our meeting's schedule!
MIEM HSE Tourist Club

We are climbing and hiking. We will provide all the equipment needed. It's free. Don't worry. Be a tourist.
More information on the club's website and at international@tkhse.ru. 
HSE Music Proje

cts Centre

A unique concert series has been running over the last ten years at the Professor Club organized by HSE Music Projects Centre. Each week you can listen to interesting musicians play and talk at the HSE (20 Myasnitskaya Ulitsa or 5A Vorontsovo Pole Ulitsa). Don't miss the chance to hear famous and new performers play jazz, classical, and folk.
Admission is free for HSE students. You also can invite guests, but register them online beforehand. The Professor Club's schedule (September-June) is published on the website. 

Philosophical Discussions Club
Students' Discussion Club of School of Philosophy from times to times has its' meetings in English language – this is due to frequent appearance of international guests – professors from American and European universities. The range of topics in the club is not specifically restricted to the philosophical domain, as themes of discussions may vary from the results of presidential election in United States to close-reading of Heidegger's works. Meetings of the club appear almost every Friday at 5 or 6 pm.
Find us on Facebook and Vkontakte.
Cinema club thisweekwewatch:
Cinema club has a long history of discussing films in English. It firstly has appeared as an English speaking practice club, but then switched to its' more cinematique side. All films are screened in the original language with Russian/English subtitles (which for some of international students may be useful in terms of learning Russian). Discussions are held in English whenever there're international guests in the meetings of club. Sometimes the organisers of the club specifically invite international students – the screening of Indonesian 'Look of Silence' was followed by a discussion with Indonesian student, and the meetings with various Japanese films were complemented by discussions with students from Japan. Meetings of the club are held every Saturday around 6 pm.
Follow us on Facebook and Vkontakte.
Best Buddies
Best Buddies is a non-profit organization dedicated to establishing a global volunteer movement that creates opportunities for one-on-one friendships and leadership development for people with intellectual and developmental disabilities (IDD). The mission of Best Buddies HSE is to provide an opportunity for students to be matched in one-on-one friendships with individuals who have intellectual disabilities. Social experiences and relationships are a part of life; unfortunately, individuals with intellectual disabilities have historically been excluded from many of the social opportunities that most people enjoy. By becoming a Best Buddy, you will not only befriend someone with an intellectual disability, but you will also learn about yourself in the process. 
Follow us on Vkontakte
Contact us: hsebestbuddiess@gmail.com
High School Press (in Russian)
High School Press is an online media (studpress.hse.ru) and a monthly magazine for students of the Higher School of Economics. It issues reports about the main events taking place at our university and in Moscow, speak to notable newsmakers, and cover stories about modern society and creativity worldwide. It is run by HSE students since 2012.


Théâtre Russe-Français "Le Défi"
The society has  been organizing various  theatre plays  in Russian and French languages. Also they have classes to teach you basic acting skills. You can find more information on Vkontaktepage. 

HSE Latin American Society
Welcome to HSE Latin American Society. In out meetings you can learn more about
-       culture traditions in Latin American region
-       events and contests about Latin America
-       opportunities to study there
-       practice Spanish or Portuguese language with native speakers
-       participate in educational lectures run by experts
Follow us on

 

Facebook

 

and on

 

Vkontakte

 

to stay updated on all things!